Mama's Homestay is a local family business dedicated to providing their guests with everything they need to experience the culture, scenery and food found in the Ha Giang region of Northern Vietnam.
The homestay has 6 private rooms that can accommodate 1- 4 people per room, with a communal restroom. Our dorm room sleeps up to 10 people.
Mama's Homestay is a family business with Mama cooking the local meals for travelers along with offering laundry service for her homestay guests.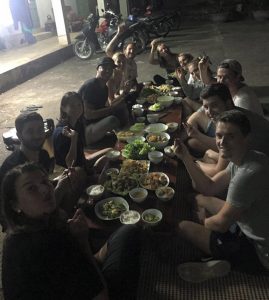 Reception and tour information is provided by her daughter Dung, who speaks English and has worked with thousands of travelers these past few years, educating guests about the region. She can provide detailed information and guidance along the Dong Van Karst Plateau Geopark motorbike loop with recommendations of lodging, food, weekly market schedules and scenic locations that are worth visiting.
Mama's sons organize, clean and maintain their fleet of rental motorbikes for their guests.
The family offers a variety of tours including trekking, food and motorbike guided trips. One option is the Easyrider Tour where guests who aren't comfortable driving a motorbike can have their own personal driver for the trip.
Mama's Homestay's mission is to bring about responsible tourism by offering opportunities to local residents through education and support to ensure a tourism growth the benefits locals and protect our unique culture.
Mama's Homestay offers full assistance and advice for guests while planning your trip:
Route planning and free map
Free support 24/7 for guests during their journey on the loop.
Booking guesthouses along the journey
Free luggage storage and shower for guests  who rent motorbike upon return from the loop
Free booking for onward bus tickets
Mama's Homestay also offers
Free walking tour of Ha Giang city for Homestay's guests
Free bicycle tour to waterfall for homestay's guests
Laundry:

Normal price: $2 (40.000 dong)/ per kg
Express price: $3 (60.000 dong) /per kg
How to Get Here
Mama's Homestay is located near the Ha Giang Bus Station.
Walking From the Bus Station
Walk south on highway 300m. Mama's Homestay on the right. The homestay is only 3km from the city, in a nice and quiet location along the river's edge.  Enjoy the  solitude of the garden, and trekking around the area hills.  The homestay is located only 5km from the area's waterfall, and landscaped fields of rice terraces.  Pagoda mountain is within 3km walk of the homestay and is a perfect location to experience the sunset.
Drop off at Mama's Homestay
Before you arrive in Ha Giang inform the bus driver that you are staying at Mama's Homestay so they can drop you off directly at our location. Our homestay is only a 10-minute walk to the city's center.  All bus companies provide an easy and convenient pick-up at our homestay. We can help organize your transportation on busses or private express services to your next location.